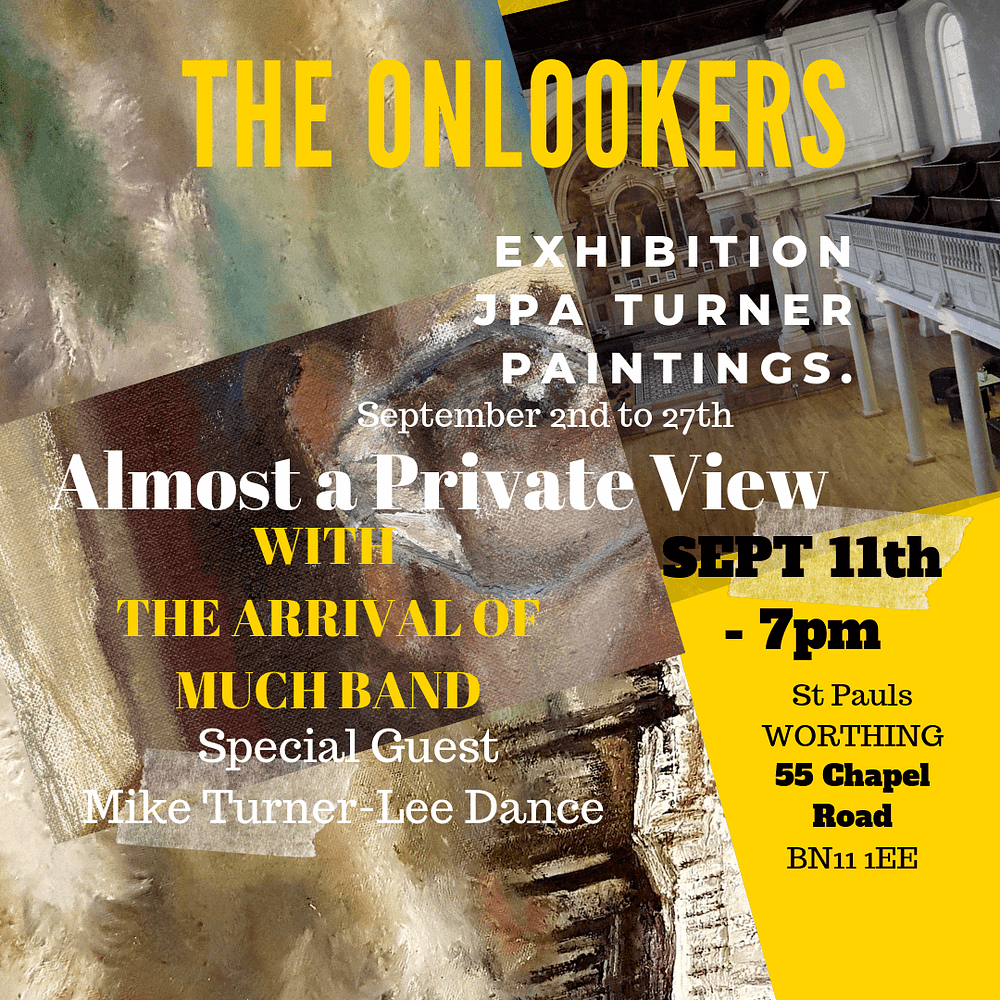 Onlookers – Exhibition – Performance
In November 2018 I was the musical director for a show about the 7 Ages of Man. This was a steep learning curve for me. As the project progressed I started to feel my inadequacies. It was a painful and beautiful process, one that I could not hide or dismiss. Why was this? https://www.7ages.org/I was working with a wonderful team of committed musicians and actors who supported me through the journey. Unlike corporate environments revolving around money, this activity was voluntary but the commitment from the participants was far greater than any I had experienced in the working environment.To be a successful artist is not about how much money is attached to my work but the connection that it makes with and between people. Having said that I am aware of the need to have the revenue to create even greater value.THE IDEAAfter that set of performances, I realised that there were also possibilities to develop music activity. I have created music pretty well all of my life but like many things to fully commit to playing in public regularly has not happened. It is time to go public with a bigger exhibition with substantial work and with a performance too. https://stpaulsworthing.co.uk/events/​
As well as the Exhibition I am working with friends and my son (friend too !!) on a performance. Here is some of the sounds
MINDSET
So mindset became a central word and now I can see that the determination that we need to have to achieve anything is born from a reason to do it. I know that by holding this first event in the next chapter of my art practice sets the stage for the next few years at least if not more.
The creative side of events comes much easier to me than the organisation of an exhibition. By having deadlines I can allow my heart to decide the work I am going to make and then the head finds out later on a bit about what it all means. I say a bit because my mind is far from reliable. 
The Onlookers is the idea for a series of 5 paintings on linen substrate and all about the same size. This came to me and is a vehicle for me to express a deeper level of my unconscious into my artwork.
Creative Process
How about the creative process. This is the point of setting targets of work. Quite early on in this new art practice of painting, I decided to do sets of work to learn more about what I was doing.  What is fascinating is that it has given me a deeper insight into the way I work in general.
It is about being true to yourself. We are all different aren't we and so we all create differently. This may be on a subtle level but I feel these changing fluid differences are the reason that it is difficult to "teach" disciplines.
The doing of painting is how we find out and return to our source and consequently why the activity can be so useful in a guide to discovering our deeper responses to stimuli.
All creative activities can support our goals. I am close to completing the work and have August for the oil to dry enough for hanging. When you take on challenge magic happens. This has manifested as the formation of a musical ensemble that at the moment is called "The Arrival of Much". Intellectually I debated with myself. My head was telling me not to pursue this until the exhibition was over. A very reasonable conclusion one would think. My heart has a rule of thumb these days and so it is included
About a month to go – Growing understanding
So from the initial music in the 7ages and consequent performances in the Brighton May Fringe Festival, the "Arrival of Much" Band has been realised.This has shown me that with an inclusive and open heart it is possible to bring people together to blossom and create incredible music. This is now part of my long term vision.
All creative pursuits can be an opportunity to grow and expand and after all, this is surely a meaningful way to live. Not everything will go to plan but a lot will be learnt.
So, September 2nd to 27th paintings by JPA Turner will be at St Pauls Art Centre. On the 11th September, a private view will be accompanied by the Arrival of Much. The start of a new phase of development for the future.
I am hoping this is inspirational to anyone who has an idea and is hesitant to put this into practice. Do you have similar thoughts when evolving projects? Have you got any tips that you can share with others?
Please email or comment and we can start a debate. I believe that everything we can do to encourage creative activity has an incredible impact on the future of humanity. Our fast pace of living is becoming increasingly driven away from living a creative life.
-Patrick